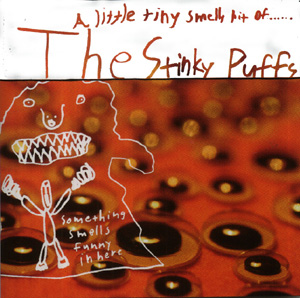 order here.


This was my very first Stinky Puffs CD, and I must say, I love it! :-) Although short (as are all Stinky Puffs EPs), it has heart and gets its message out in just the right amount of time. :) The tracks are (click on the title for lyrics):
Buddies Aren't Butts
Menendez' Killed Their Parents
I'll Love You Anyway
I Am Gross!/No You're Not!
All of these songs were written by Simon Fair Timony, the 11-year-old lead singer of the Stinky Puffs, except for "Buddies Aren't Butts", which was written by his 9-year-old friend (also guitarist) Cody Linn Ranaldo, son of Sonic Youth's Lee Ranaldo.
Other Stuff
How You Make A Live Stinky Puff Show
Thanks to: Everyone!
[ cds || the band || articles || interviews || pictures || timeline || merchandise || links || guestbook ]