"I dedicate this record to Frances Bean Cobain.   Love, Simon"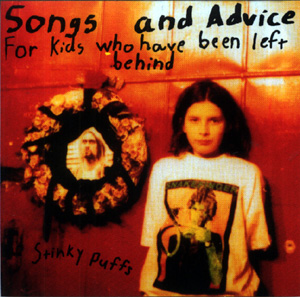 This album I got on 25 July 97 and it is soooooooooooo very good! :-) It's got sauce, man, I listened to it oh so much. :-) *However*, I don't know which one I like better .... this one or A Little Tiny Smelly Bit Of ....
In any case, here's the track list (click on title for lyrics) (stuff in parenthesis ( ) is what Simon said about the songs):
1. I Know I Know (These chords came to me in a very strange way)
2. The Vitamin Song (Take care of yourself and you can take better care of others.)
3. I'll Love You Anyway (This is a song I did about when Kurdt died.)
4. Rubber Pen (We love this song so much we recorded it in one take!)
5. The Three Tuners (This is how we tune our guitars [just kidding].)
6. Bummer Skit (Its OK, its fake. Listen for Rob K and my mom laugh afterward!)
7. Dream Weaver (A hopeful song. Thanks Mr. Gary Wright for letting us cover it.)

The Band on This One:
Simon Fair Timony -- GUITAR/VOCALS
Jeffrey Rotter -- LEAD GUITAR
Cody Linn Ranaldo -- GUITAR/MARACAS
Eric Eble -- BASS
Sheenah Fair -- DRUMS
Special Guests:
Rob Kennedy -- YELLS ON BUMMER SKIT
Thanks to The Workdogs
Sympathy For The Record Industry
Hendri Von Spåå -- PIANO ON BUMMER SKIT
Thanks to Mac Nasty & White Feather

Other Stuff
All the Lyrics
Thanks
Thanks to everyone who has written to me and loved and supported me, The Big Boss Man Raddy T.T., magazine people, Krist, Shelley (and Simon!) Novoselic, Nike and Pete at Coyote Studio, Dave Grohl, club people, Roy Amanda Linn, Eric Pepper, Tom at Master and Servant, my friends, family, my band, teachers (TEACHERS RULE!!), Pat Smear, Jana, Pat Malley, Jeremy Jacobsen, The Residents, and all my pets.                                                       Love,   Simon
Songs and Advice for Kids Who Have Been Left Behind was recorded and mixed at Coyote Studios in Brooklyn, New York. It was produced by Mike Caiati with The Stinky Puffs and Peter Zaremea. It was a great time !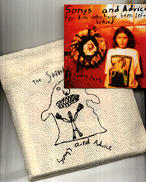 Deluxe Collectors' Edition, order here.
[ cds || the band || articles || interviews || pictures || timeline || merchandise || links || guestbook ]